With a lifelong passion for writing, Meredith Lawrence's first foray into journalism was for her college paper, the University of Puget Sound Trail. She has since worked for publications including The Sheridan Sun, The Puyallup Herald and Oregon Public Broadcasting. Lawrence is especially passionate about culture writing and character-driven reporting.
A multimedia narrative exploring nostalgia and memory, through the eyes of three men living in Portland, Oregon, each holding onto a piece of the past.
In a small town by the road to the coast, Bill Hawkins has a time machine in his garage. Nestled between tens of thousands of records, Terry Currier maintains that vinyl is the greatest invention in the world. With his collection of restored straight razors, Johnny Kracy is reviving hairstyles of the 1940s, 50s and 60s.
Reported, shot and produced while studying multimedia journalism at the University of Oregon. Read more…
Feminine Fantasy: Mrs. Maisel as the Dawn of a New Era
When Mrs. Maisel strode on stage at The Gaslight in the first episode of award-winning series The Marvelous Mrs. Maisel, she stepped into a new era for herself and for fictional representations of female comedians.
A critical essay about femininity and feminism, published on Medium. Read more…
Portland Program Sees to Immigrant Eye Health
When Jasuda Monger, 17, tries to focus on objects close to her face, it hurts so much tears stream from her eyes. Monger is a beneficiary of an Oregon program providing free optometry services for immigrants.
Local news story published by Oregon Public Broadcasting. Read more…
Re-funded School Bond Would Help Upgrade Facilities
An explainer on local school bond measures, that prompted a significant community response. In the midst of a budget full of unknowns, the story was widely credited with demystifying a complex issue that had confused voters for months. The final copy was reproduced and featured in the bond committee packet.
Explainer first printed in The Sheridan Sun. Read more…
Pierce College Members Unite Over Disaster in Japan
For the Japanese students of Pierce College, the earthquake could not have come at a worse time -- thousands of miles from home and on the eve of finals week. But their community pulled together to support them. A local take on international breaking news.
Community news, printed in The Pullayup Herald. Read More…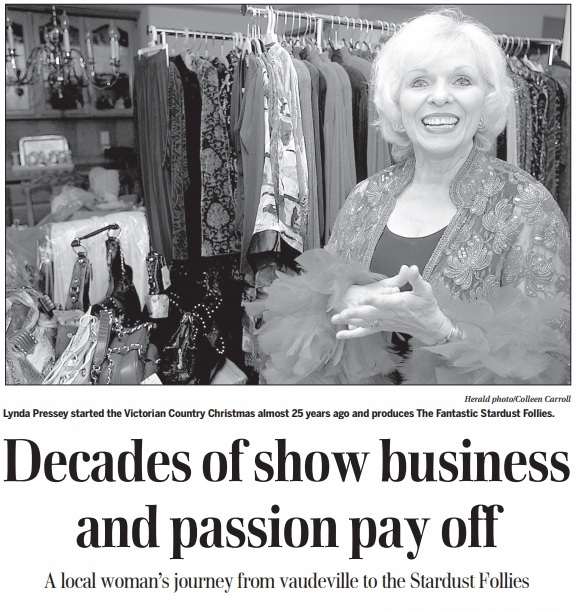 "I would far prefer to be 85 and drop dead on a stage, or after a show, that'd be my preference, than give up what I love."
Decades of Show Business and Passion Pay Off
Lynda Pressey first stepped on stage at the age of four, a fledgling vaudeville performer. She now leads a troupe of showgirls in Washington state, all over the age of 55.
Profile printed in The Puyallup Herald. Read more…
Can I give you something?" asked Rhea "Wiildkard" Nance as she eased her way through a crowd of people pushing up the stairs from the basement theater at New York's French Institute, where Nance had just performed. She handed a woman in a cherry-red blazer and matching skirt a black and white headshot of a woman, printed on plain paper.
A feature published on Medium, about a Tunisian choreographer who uses dance to pull young Tunisian men back from the brink of extremism. Read more…
Sheridan School district faces sequester cuts
An underfunded school district struggles to make ends meet following national budget reductions. The district's high population of low-income students were especially hard hit by the 10 per cent funding cut.
A local education story about how national decisions trickle down to communities, first printed in The Sheridan Sun. Read more…
Local Family Starts Farm for Veterans
After five tours of duty with the United States Army, Charles Estanol knows how hard it is for veterans to reintegrate into society. His experience planted the seed for a rehabilitative farm to help veterans transition from active duty.
Local feature first printed in The Sheridan Sun. Read more…
Comments on pond fuel frustration
An engineer for the small Oregon city of Willamina sparked outrage by publicly criticizing a school district's fire supression plan.
A local news story about the intrigues of municipal politics, first printed in The Sheridan Sun. Read more…